"Get your brick for the stupa" – This is the slogan of our fundraising action to get many centers involved in the building of the Kalachakra Stupa. Every center can get a brick for a donation of 1080 Euros.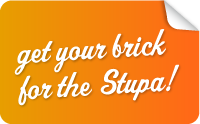 Until now we have already 28 centers and regions involved. WOW!
Thank you so much, Europe-Center, Hamburg, Berlin, Vienna, Graz, Giessen, Munich, Villach, Ilserlohn, Schwarzenberg, Innsbruck, Ravensburg, Salzburg, Karlsruhe, Pforzheim, Tenovice, Tuebingen, Altmuehle, Bochum, Norway, Pilsen, Kladno, Karlovy Vary, Klatovy and Rakovnik, Oberwoelz-Judenburg, Australia.