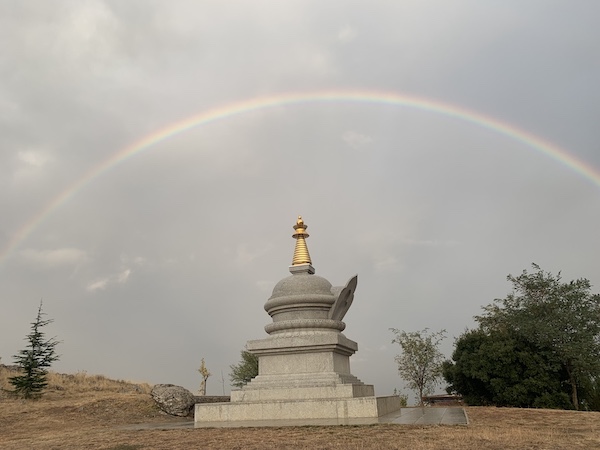 Dearest friends!
Again we had an 8th Karmapa Retreat in KBL. To get an impression of how it feels like, read the report of our Travel Teacher Rafal Olech:
Connecting our minds with the mind of our guru in meditation with friends from Austria, the Czech Republic, Greece, the Netherlands, Germany, Poland, and Russia was a great experience. Surrounded by rainbows, rain, storms, and sudden changes of crazy weather, we had the honor of enjoying the powerful KBL meditation center. Grateful to Lama Ole and to everyone who made this event possible, we sincerely wish that the time spent on intensive practice will benefit all beings!
All best
Rafal Olech
and another one from a participant, Sabine:
Hi friends,
I'm Sabine from Stuttgart, Lama Ole's student since 2005 and this is my short report from the 8th Karmapa course in KBL 2021, led by Rafal Olech from Warsaw.
The course started Friday evening and ended Saturday, so we had seven full days. We sat down 4 sessions a day – 3 of them guided by Rafal – and deepest joy and gratitude appeared in us. In all of us. This time we were not greeks, poles, Czechs, Georgians, Austrians, and Germans. We were just us together. We spoke happily a language we called 'english'. We cracked some concepts easily with the left hand and created good habits with the other. We had inspiring and very funny lectures from Rafi. We were flattened by the clarity of Hannah explaining the meditation – so much stupidity left our systems that everyone wanted to sleep although it was only 10. We listened to Lama Ole's streamed lecture and sang Mahakala with the 16th Karmapa. Mike from Athens shared with us his recall of the 16th Karmapas visit and the black crown ceremony in Athens. To provide us with cheerful distraction even the animals cooperated and bunches of cows, goats, sheep, and dogs came by.
The whole program nourished joy and gratitude well so it grew ever deeper the 7 days. On the train back to Athens, we had both literally tears of thankfulness and joy. Now a day after I feel like I got a long blessing from Lama Ole: I feel lightheaded, hardly remember my name or how I got here but am totally sure that I'm at the right place walking in the best possible direction.
The group spirit and mood were amazing: happy, fresh, loving, and focused at the same time. My personal theory: Every practitioner starts to shine brighter up there in KBL and all his qualities are easier to be seen. So we can train the viewpoint of the Lama much easier. I doubt one can follow an 8th Karmapa course in KBL and come back as the same person. It's a very pleasant occasion to rub some layers of mud off from you, who is reading this now, you beautiful jewel of the Karma Kagyü lineage.
Sabine